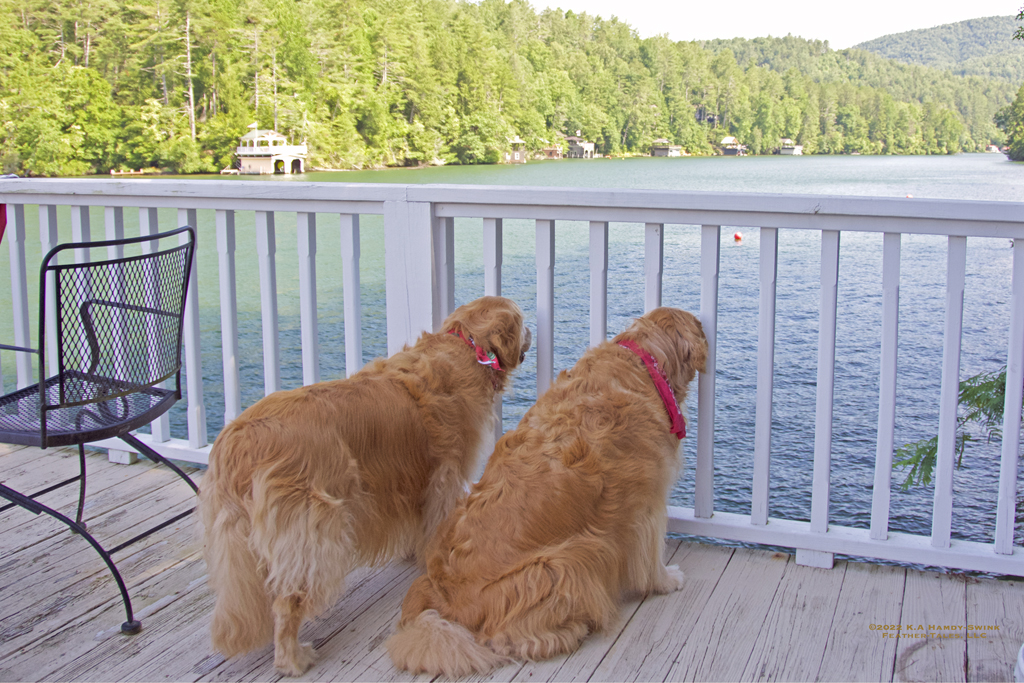 July 4th, 2022, Lake Rabun, GA: Teddie and Gracie, our Golden Retrievers, wagged and waited, with a front seat view through the boathouse's pickets . . . "They're Coming!" was gleefully echoed from across the lake and the boathouse next door. Even after seventeen years of shooting wooden boat photos, I still get nervous. This parade lasts just a few minutes and as photographers there's only one chance…
It's go time. My pulse throbbed in my neck. Butterflies flipped a bit lower. Semi-retired from photography, yet I can't dare miss this photo shoot! With camera settings checked and batteries fully charged, will I still be able to capture these gorgeous beauties photos and do them justice?
We heard their low rumble, as beautiful wooden boats slowly approached, in seconds they'd be in view. Mike stood behind me to wave—just in case someone couldn't see me! As I braced over the damp railing, raised my old Nikon to my smiling friends, in their gorgeous boats, the world behind me blurred—the thrill of the moment took over. Could fully fluttered flags get caught with shutter clicks? Would water droplets be caught mid-air? Probably not like years past, my timing's too rusty. Smiles were more important and thankfully those seemed to stay steady with sheer joy.
Gratitude doesn't begin to describe my appreciation for all who lovingly care for and keep these Wooden Boat beauties humming. Reverence in my heart abounds, especial as some boats, in this years parade, are cruising towards their 100th birthday… And for other Lake Rabun Wooden Boats sadly left moored, waiting to get all their ills and boo-boo's tended to, we missed you too and hope you'll be back to healthy full-throttles soon . . .
And when you're capturing these beauties in an amazing magical place called Lake Rabun, in perfect weather, their photos are meant to be shared… or turned into keepsakes (i.e. available for purchase off our Zenfolio site)!
I hope you enjoy them: https://feathertales.zenfolio.com/2022boatparade/slideshow
P.s. If you ever forget how you've gotten here and love wooden boat… feel free to remember (or try too!) my other URL: www.woodboatphotos.com